Nifra Poultry, a top-rated butcher shop and game meat supplier in Melbourne, specializing in selling local meat such as wild game, lamb, pork and buffalo meat from small family farms, announced the release of new high-quality game meat butcher and supplier services and products.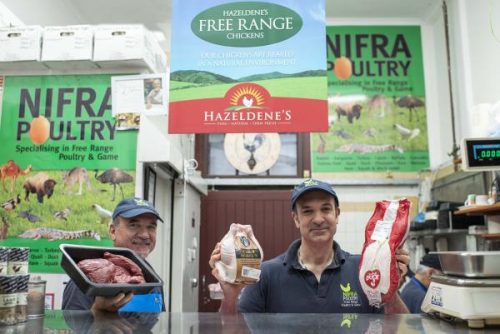 Melbourne, Australia - November 15, 2019 /PressCable/ —
Nifra Poultry, a premier butcher store located at Queen Victoria Market in Melbourne, announced the release of new poultry and game meat products. In addition to the popular duck, turkey, pork, lamb meat producs the store has begun selling hare, venison, camel, and crocodile meat to home consumers and restaurants.
More information is available at https://nifrapoultry.com.au/ .
Nifra Poultry is the preferred source of free-range, all-natural, truly wild game meats of Melbourne meat lovers, home consumers, and cooks.
The store features only the finest quality game meats: the daily offers are a reflection of each unfolding season and are all from locally sourced meat farms. Free-range eggs sourced from ethical suppliers are always in stock in the store.
Nifra Poultry is a full-service butcher shop which is on a mission to provide high-quality food products to the Melbourne residents. A company representative shares, "We know exactly where the meat comes from, we are directly involved in its production. We receive deliveries from local farms daily to ensure that customers eat the absolute best meat products."
The company has recently expanded its menu of offered products and now specializes also in sourcing and selling game and wild meat including buffalo, camel, rabbit, wild boar, venison and crocodile.
Since 1964, the Nifra Poultry family-owned business has been proudly distributing a variety of high-quality free range poultry and game meats to the Melbourne community, including but not limited to.pork, beef, chicken, turkey, and duck meat products.
The Nifra Poultry team is dedicated to making sure that each client always receives the highest quality products.
A satisfied customer shares, "I have been picking up rabbit meat and pork from Nifra Poultry for months. The presentation is top-notch. The store always carries the tenderest and most succulent cuts."
The store is located at 84 Deli Hall, 513 Queen Victoria Square, Melbourne, VIC and welcomes clients every day except on Monday and Wednesday. Special meats and game can be ordered in advance.
Interested parties can place their delivery orders at https://nifrapoultry.com.au/ or by calling (03) 9329 6861.
Contact Info:
Name: Chris Kafaltis
Email: Send Email
Organization: NIFRA POULTRY
Address: SHOP 84 Deli Hall, Queen Victoria Market 513 Queen Victoria Square, Melbourne, VIC 3000, Australia
Phone: +61-3-9329-6861
Website: https://nifrapoultry.com.au/
Source: PressCable
Release ID: 88934380